In an article cited by Forbes
here
the total number of store openings is expected to be a net positive for 2017. However, beneath the surface and among retail sectors the numbers tell a very interesting story. Below is our analysis of this and what it may portend for your business into 2018 and beyond.
First, The Store Closings.
First, lets start with the bad. Of the more than 14k expected closings, the grand majority are constituted by outright retailer bankruptcies - Radioshack, Rue21, Payless and a half a dozen others. There is nothing extraordinary in these closings, business have been closing their doors for decades. More notable among the closings is the sectors - particularly apparel retailers which have been having a particularly rough time this year. This seems to be the most important trend in store closings, and we believe it is a result of weak overall mall traffic being siphoned away by online only brands and of course Amazon. The other major standout appears to be in the electronic gaming sub-sector of electronics - GameStop being the most notable.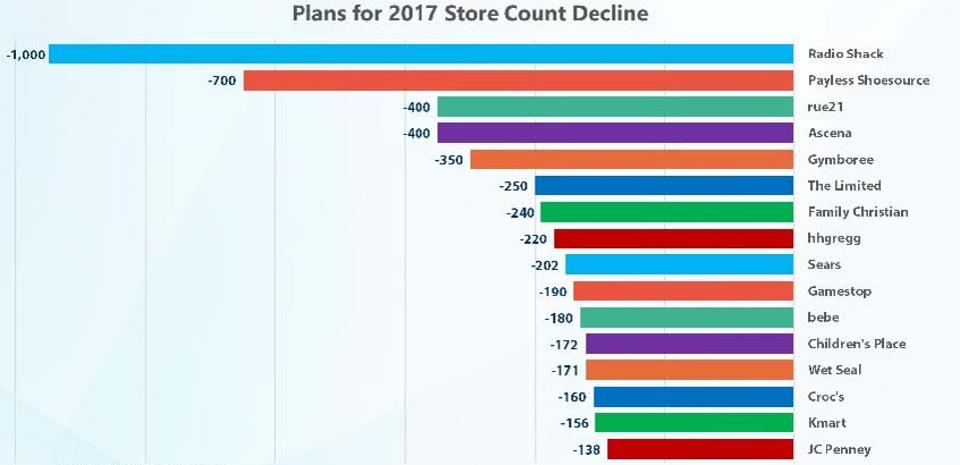 Now For The Brighter Side.
On the flipside, the number of new store openings seems to be centered on services outlets - hair, nail salons like Ulta, Sally Beauty, etc and of course on discount retail stores - Dollar General, Dollar Tree - both aiming to take a chunk from the Wal-Mart cohort as it tries to re-tool to compete with Amazon. Aside from these two sectors, there are some notables - the DIY Automotive sector is very strong - a factor that is particularly interesting given the calls for peak-auto sales. Outlets such as O'Reilly and Autozone are the standouts here.
Also interesting is the continued strength of discount apparel retailer TJ Maxx - a continued sign of the bargain conscious consumer that meshes well with the Dollar store growth explanation. Perhaps the most interesting of the top store openings is Tractor Supply - opening over 2 stores weekly with a focus on more rural customer base. In our own analysis we believe there is still significant opportunity in the rural areas of the country - and other retailers such as Rural King, Meijer, and others are taking note. Also from our internal analysis its interesting to note that Menard's has not continued to expand upon this strategy of late, and both of the large Home Improvement retailers Lowe's and Home Depot seem to desire to optimize their current footprints and figure out how to use presence to combat Amazon's speedy delivery and product breadth.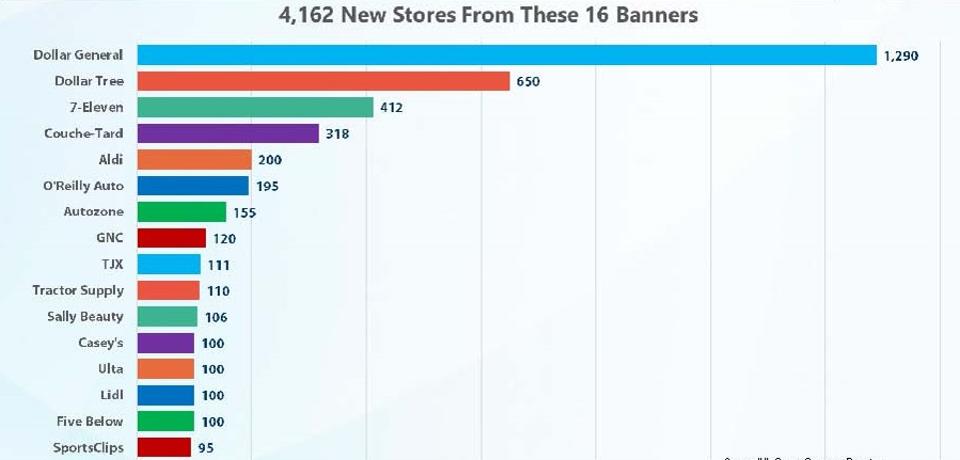 And One More Thing.
Our prediction is that the trend of 2017 will continue as specialty clothing continues to crater as malls transform or dissapear whilst facing the new landscape of retail and its challenges. But our most interesting prediction is actually in a sector not yet mentioned - specialty vertical - Pet Stores. The demographics for these stores are very appealing as they benefit from both urban and rural appeal. We predict the footprints will shrink - you'll see more Unleashed style outlets in favor of the larger footprint Pet-Smart and Petco outlets, with an urban slant on this behavior. Wallet spending on pets is a perennial strength spot as families view their pets more and more as full blown family members and / or people as opposed to animals.
Lastly, the grocery sector is going to be a huge new front in the retail battleground. With Amazon buying Whole Foods, and the continued entry of European chains like Aldi that have learned the neighborhood market footprint from Europe, its going to get bloody. Sub-sectors in this that will get particularly hard are likely to be health and beauty aisles - competition will be fierce.
We'll have to wait and see, but here is our prediction for 2018. For more reading on this try Retail Dive's article
Here
.